About Us
Our Company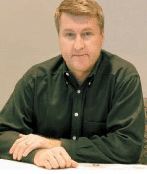 As a child, Paul Robben loved building things. After training as an engineer (Seaton Hall engineering scholarship recipient K-State 1977) and later receiving his CPA, he worked as Chief Financial Officer for a local home building and development company. Learning the business from the ground up, Robben gained knowledge in all aspects of community development.
Envisioning communities that preserved nature while offering homeowner functionality, he started Woodstone Homes in 1990. His first development, Overland Park's Arlington Place, sold out in less than one year. He acted as developer, builder and sales agent, handling every aspect including cleaning the model homes when necessary.
"We partner with professionals who share our vision. The result is a well-planned community meeting the needs of all its residents."
In less than 15 years, Robben has garnered a reputation as a community visionary with integrity. His credentials speak for themselves:
Certified New Home Sales Professional (CSP)
Certified Graduate Builder (CGB)
Kansas City Home Builders' Association (KCHBA) - President, Secretary, Treasurer, Past President, Governmental Affairs Chairman and Build-PAC Chairman
National Association of Home Builders - National Director
Urban Land Institute member
Mid-America Regional Council - Cost of Development Committee
Overland Park Watershed Development Task Force Committee
Fannie Mae Partnership Advisory Committee
KCHBA Builder/Developer of the Year
Housing Choices Chairperson 2001-2007
Over 20 additional awards from KCHBA for home plans and designs
His 20 neighborhoods in Leawood, Lenexa, Overland Park, Shawnee, Olathe and Lee's Summit are home to over 2,000 families. He continues to break status quo with groundbreaking neighborhoods successfully marrying homeowner desires with responsible land usage.
Our Awards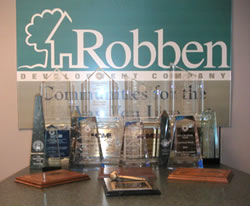 1993 Gold Award Winner - Parade of Homes
1995 American Dream Award 1st and 2nd Place
1996 American Dream Award Winner (2 Awards)
1996 Pick of the Parade Award Winner(2 Awards)
1996 and 1997 MAME (Metropolitan Award for Marketing Excellence)Best Builder/Marketer 51+ units (homes)
1997 Pick of the Parade Award Winner
1997 MAME (Metropolitan Award for Marketing Excellence) Best Electronic Media Presentation builder
1998 Pick of the Parade Award Winner (2 Awards)
2000 American Dream Award Winner
2000 Distinctive Plan and Design Award
2000 President's Award HBA
2001 American Dream Award Winner
2002 Pick of the Parade Winner Grand Award Winner
2004 Pick of the Parade Grand Award Winner (2 Awards)
2004 Best Model Home Interior Merchandising
2004 American Dream Award First Runner-Up
2005 Parade of Homes - 1st Runner Up
2006 MAME - Best Community Website
Our Services
With the financial background gained from working as a CPA and over 20 years of experience in developing, building and marketing new homes, Robben Development offers the following services in a variety of capacities and arrangements:
Site Acquisition / Due Diligence
Zoning Entitlement Assistance
Marketing and Sales Strategies
Real Estate Investment Analysis
Owners Representation
Real Estate Financial Analysis
Since late 2008, market and credit conditions have changed substantially. No longer is it possible to "build it and they will come". Opportunities in real estate today are strategic and require precision to execute successfully.
Click here to see a comprehensive view of Completed Communities and Available Properties spanning 20 years of award winning developments, many of which introduced innovative and successful concepts to the southern Kansas City metro area.
Let us help navigate these unique challenges.